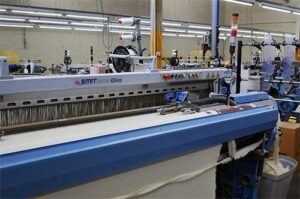 From wool to weaving – Geelong Textile Group finds new owners
The sale of Geelong Textiles and Geelong Dyeing was finalised in June 2022. It is the first time the iconic Geelong-based textile businesses have been on the market since 1971 – over 50 years ago.
After an exhaustive pan-continental search for new owners who were prepared to make a commitment to the business, the region, its employees, and existing culture, both companies have been purchased by – and will be managed by – Australian Textile Investments (ATI), Chaired by Mr Floyd Legge.
Mr Legge is also a Director of Ridgehaven Poll Dorsets, based in the Central West of New South Wales. He is a sixth-generation pastoralist whose family has been involved with fine Merino Wool farming for over 150 years.
Adamant International Managing Director, Mr John O'Connor, who managed the search and sale process for the Geelong Textile Group, said that the new business owners were a great fit for the organisation as their commitment to the Australian textile industry is based on their involvement in the production of fine merino wool since 1852.
"This is a great wool-to-weaving or farm-to-fabric success story for the Australian textile industry and, in particular, the Geelong Textile Group. The company will remain in Australian hands under the guidance and stewardship of Mr Legge and his investor group, who are all committed to identifying opportunities for business growth and diversity; and building on the excellence manufacturing values inherent in Geelong Textile Group," Mr O'Connor said.
"Textiles manufactured from Australian wool still command premium prices in Australia and overseas. There is no doubt that while Australian wool continues to be valued as a commodity and textiles made from Australian wool remain in high demand, the sale of Geelong Textile Group to ATI will offer many opportunities to both entities," Mr O'Connor said.
The Geelong mill has operated and specialised in wool fabric since 1920. Today, it continues to create quality upholstery and apparel fabrics for commercial and domestic use. Whether it is fabric for public transport seats, or school uniforms, the mill has been manufacturing locally for over 100 years. Geelong Textiles is also known as one of the businesses that supplied the material for the Australian Test Cricket teams' iconic baggy green caps, made famous by every captain including Sir Donald Bradman, Allan Border, Ricky Ponting, Pat Cummins, and of course, Victorian, Bill Lawry.
A spokesperson for the Dimmick family, Ms Janine Shannon, said that the family have been proud owners of the Geelong Textile Group for the past 51 years.
"Since 1971, the Dimmick family has built the Geelong Textile Group into a very viable dyeing and manufacturing business known for its beautiful fabrics made from fine Australian Merino wool," Ms Shannon said.
"We are all delighted that Geelong Textiles and Geelong Dyeing is going to remain in Australian hands and that the synergy between producing wool and dyeing and processing wool bodes well for the future of the business. We are confident that the new owners – also a respected family enterprise – will emulate the Dimmick commitment to quality textile manufacturing in Geelong," Ms Shannon added.
The Chairman of ATI, Mr Floyd Legge, said that his investor group is delighted to have finalised the purchase of the Geelong Textile Group with the Dimmick Family.
"While I will continue to maintain an active interest in the family wool growing enterprise, along with my fellow ATI investors, we view the purchase of the Geelong Textile Group as a positive and strategic move into an associated industry. All of us have a passion for developing a uniquely Australian product and we believe that the Geelong Textile Group has capability to do so," Mr Legge said.
"My first introduction to the Geelong Textile Group occurred in 2019 when I needed some of our family-grown fine Merino wool dyed and made into the fabric for the suits my groomsmen and I wore for my wedding. It was a wonderful experience – taking a raw Australian product and turning it into a luxury fabric, right here in Australia.
"We have met with the management and staff already to identify opportunities for expansion over the next few years. We have already commenced the process of looking for new premises in the Geelong area, as our intention is to relocate Geelong Textiles into a modern, manufacturing facility. Geelong Dyeing will remain in its current location for the foreseeable future.
"We have been very impressed by the commitment and loyalty of the entire Geelong Textile Group workforce and we are looking forward to them all embarking on this exciting new opportunity with ATI.
"All staff and management have been offered continuing employment – on their current pay levels and in their current positions – with ATI. We have also identified areas for growth in both businesses. This has the potential for additional employment, particularly for those with previous experience in the textile industry.
"Over the next few months, we will be refining our business plan for the Geelong Textile Group – in conjunction with the existing executive – and we look forward to sharing this with the various interest groups when it is finalised. Needless to say, having purchased Geelong Textile Group, we see great potential for both businesses.
"On a personal note, I would like to express my gratitude to the Dimmick family for their commitment to the textile industry in Australia. While many other textile companies have closed their doors, the Dimmick family worked hard to keep the Geelong Textile Group operational by developing new, relevant products to meet the requirements of their customers.
"By expanding on its core services of commission weaving, dyeing, and finishing, the Geelong Weaving Mill has diversified into a wide range of domestic products. Woollen upholstery fabrics and a home textiles range, including a blankets, tea towels, and a fashionable woollen version of the iconic Aussie Flannel check shirt, represent a growth market for the company. In addition, Geelong Dyeing has also developed a stock service, producing machine knitting yarn and wool tops, which are available in stock and custom colours. We intend to continue this tradition of innovation and market development under our plans for the company," Mr Legge said.